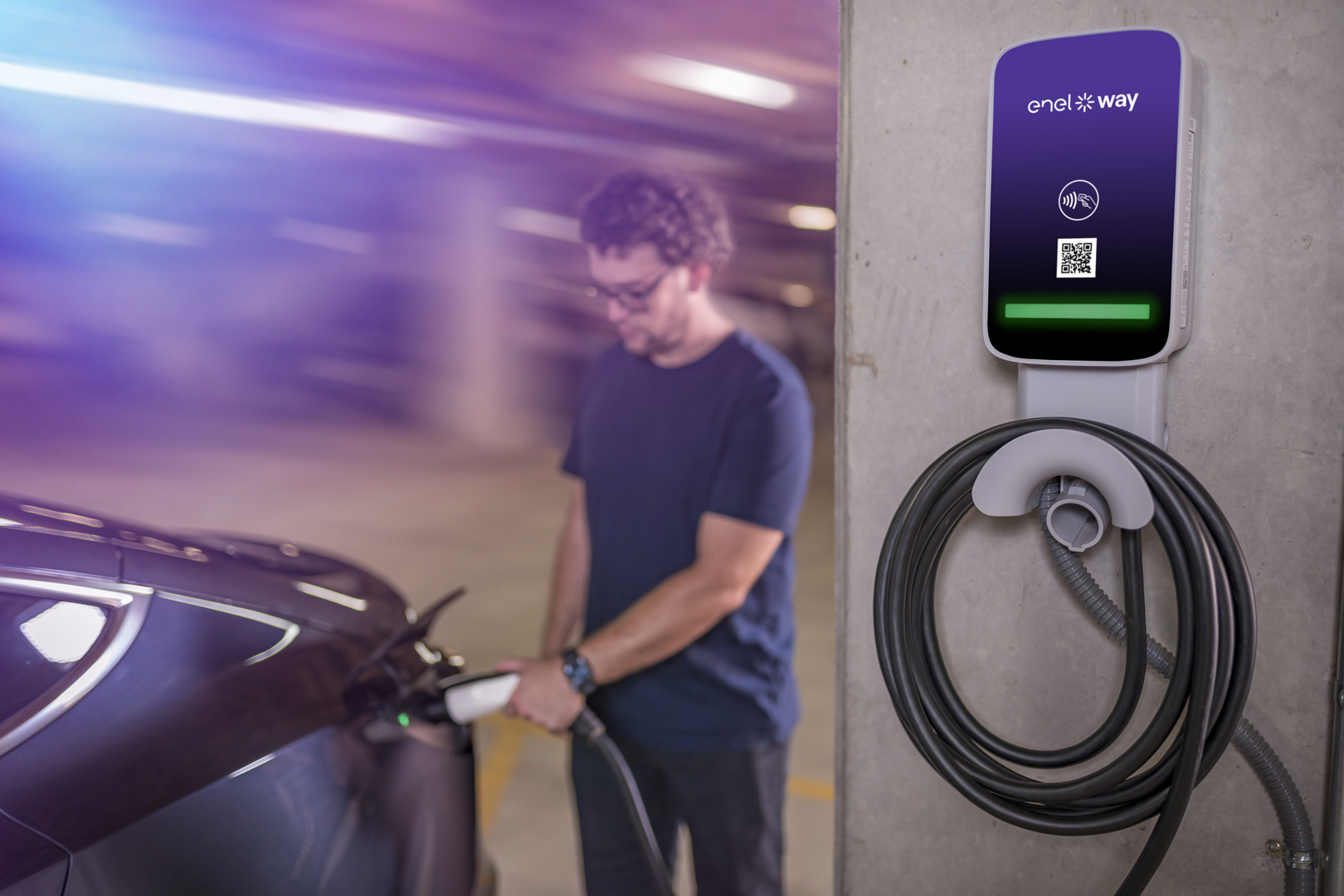 Enel X Way, a global leader in smart electric vehicle (EV) charging solutions, was chosen to provide a turn-key solution including commercial EV charging stations, installation services, and software for 600 North Lake Shore Drive, a dual-tower, 401-unit, condominium building with nearly 1,000 residents in the downtown neighborhood of Streeterville in Chicago. With residents opting for dedicated chargers in each of the 118 parking spaces, this project represents Enel X Way's largest multi-family housing installation to date. The strong interest from residents showcases how importantly they view electrification and their willingness to make the transition to electric vehicles when reliable EV charging is available.
"Our residents are responsible citizens who care about the environment and have embraced carbon footprint-reducing initiatives.  However, despite the demand from residents for EV charging, a viable solution to provide dedicated parking space charging in our multi-story parking garage remained elusive till now. After much research, we identified Enel X Way as the right company to partner with to implement a turnkey solution that included hardware, installation, software, and support." said Sunil Mehra, Board President of the 600 N Lake Shore Drive Condominium Association. "We are thrilled to see so many residents opting into the project, further positioning 600 N Lake Shore Drive as a leader in advancing Chicago's transition to sustainable transportation."
Advantages of JuiceBox Pro charging stations
Residents will be able to enjoy the JuiceBox Pro's smart charging features, including the ability to charge their vehicles up to seven times faster than Level 1 EV chargers and the ability to activate, schedule, and monitor charging sessions from their smartphone using the Enel X Way App.  
 
Boosting EV adoption at multi-family properties
According to America's Rental Housing 2022, more than 34% of Americans rent their homes. Even for those who own, living in a multi-unit dwelling, like an apartment or condo, can be a barrier to EV adoption if the property does not provide access to on-site charging stations. Residents that share parking spots for condos and townhouses may not be near outlets or meters.
This partnership between Enel X Way and the Association helped overcome several barriers to installing EV charging in existing buildings. Networked charging stations, like the JuiceBox Pro, provide customers with visibility and control to ensure grid optimization, which makes billing and managing charging costs easy for building owners using JuiceNet Enterprise software. The Enel X Way charging stations are configured so that the Association can bill residents based on electricity usage, but schedule charging for off peak periods to reduce costs. The charging stations also allow for load balancing, which helps mitigate infrastructure upgrades often needed in existing buildings by optimizing existing systems and reducing or capping total EV charging load.
In addition to installing EV chargers, 600 North Lake Shore Drive recently made numerous upgrades to become a more sustainable, energy-efficient building. Along with LED lighting in residential hallways and stairwells, the parking garage was upgraded with LED motion-sensing light fixtures that maximize energy savings without sacrificing light output. The condo is also renewing its Building Automation System (BAS) to improve its energy efficiency credentials. The net decrease in energy use will improve the building's energy certification based on the prior year's consumption.
Interested in meeting sustainability goals while providing EV charging as an amenity? Explore Enel X Way's EV charging solutions for apartments and condominiums.