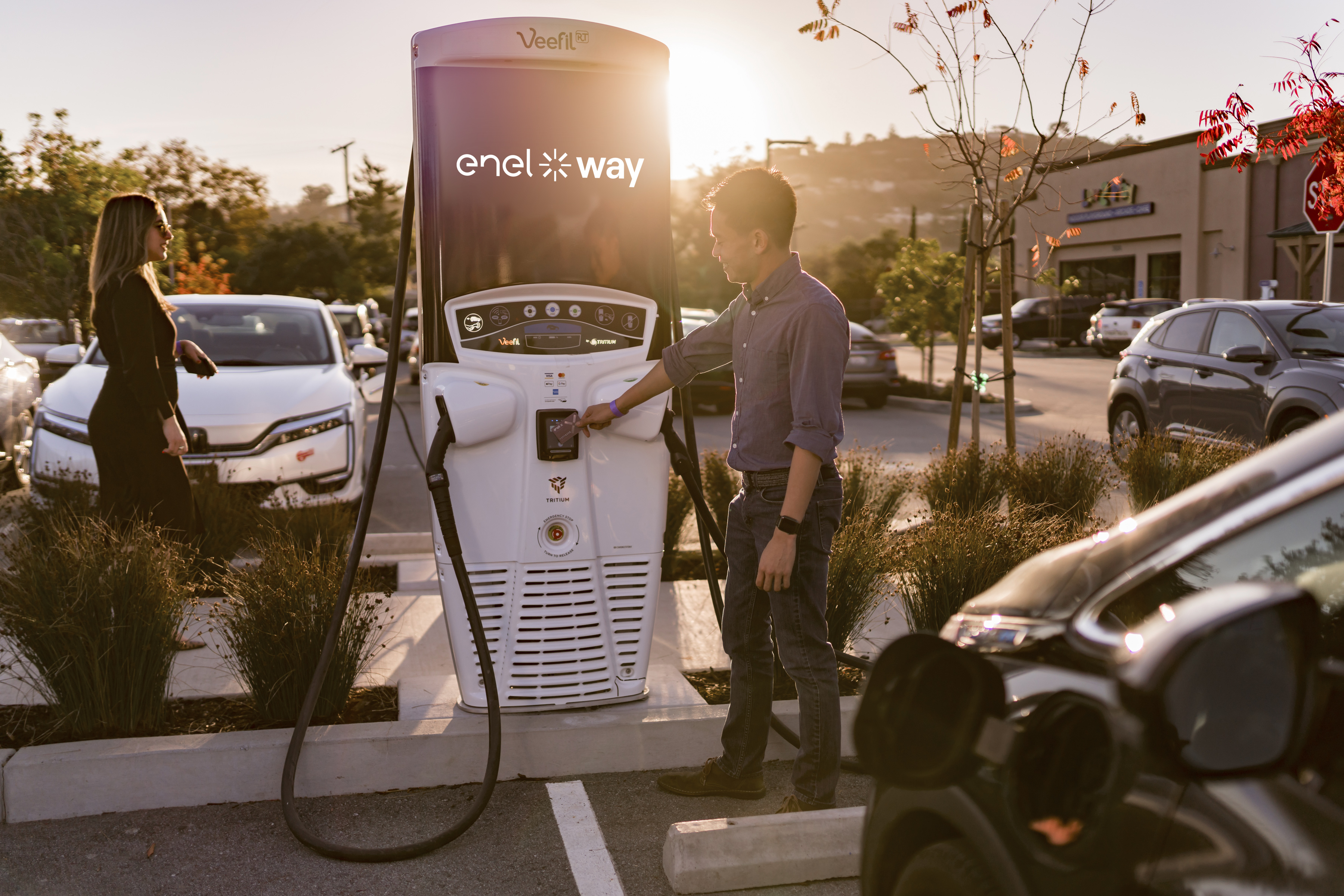 Today, public charging stations are sprouting up everywhere. As of 2022, approximately 46,000 locations across the U.S. serve as public use for commercial EV charging. This is a rather large number, especially considering the ratio of gas stations to cars. There's an estimate of 150,000 gas stations compared to the 250 million vehicles that use them.
Most EV charging outside of home—at restaurants, retail stores, and hotels—happens at Level 2 charging stations. These chargers typically add 12 to 60 miles per hour, depending on how much power the charger can supply and the electric car can accept. Even at the upper limit, however, you'll wait four hours before your EV is road ready.
The best way to get back on the highway quickly is with Level 3 charging, otherwise known as DC fast charging. But right now, you might struggle to find a DC fast charger—their high initial cost and electric current requirements make them far less common than their Level 2 counterparts.
To make the best use of public fast charging, start by learning how it works. Then, when you're on the road, you'll need a quick and easy way to find both Level 2 and Level 3 public charging stations. We also break down the EV charging stations' cost based on time and location. Finally, two recent pieces of legislation in the United States could help lower your costs when buying an EV and expand the public charging infrastructure so you can juice up while you're on the road.
Understanding DC fast charging
DC fast charging uses direct current (DC), which is different from the alternating current (AC) available in homes and most commercial buildings. The much higher voltage means fast charging can provide as much as 800 volts. Depending on the electric car model, you can recharge up to 80 percent of battery capacity within 20 to 30 minutes.
At present, however, the number of DC fast charging stations and ports in the country is limited. Here's the breakdown in U.S. EV charging networks by type, according to the U.S. Department of Energy (data: September 2022):
Public charging pricing basics: Location and timing matters
If you are going to use a public outdoor EV charging network, you need to know that charging costs change depending on the time of day or geographic area.
The location sets the baseline cost of energy. According to EIA, the July 2019 national average for commercial electricity is only $0.11 per kWh, but the price rate ranges from $.08 per kWh in Nevada, which is low, to the highest rate of $0.23 per kWh in California. This means that because of the higher price of energy and electricity costs in that specific location, the baseline price at public charging stations in California is likely going to be higher than elsewhere in the country. State legislation and regulation determines the maximum a company can charge based on the source of the energy provided.
Locating public charging stations
When you're on the road, you need a convenient way to find charging stations, especially DC fast chargers. Most likely, you'll visit a station owned by one of the top three U.S. EV charging networks.
To locate and access hundreds of thousands of public charging stations around the world, you can use the Enel X Way App. The same app that you use to set charging schedules for your JuiceBox at home allows you to access thousands of public charging stations across the country.
Enel X Way is building out its network of DC fast chargers through roaming agreements. Through partnerships with over 40 companies worldwide, Enel X Way offers access to more than 220,000 public charging points using the our app.
Here's how the app can help when you're on the road:
Find charging stations. Access a navigable map that shows public charging stations across North America.
Scout availability in advance. See ahead of time which public charging stations are open, so you can show up at a station that's ready for you.
Monitor charging away from your vehicle. You don't have to sit in your car while it charges—the Enel X Way App will let you know when it's done.
Pay easily and securely. Add your Visa or Mastercard to your wallet and pay for charging in a snap.
Public charging pricing models
There are three primary public charging pricing models: (1) pay as you go, (2) monthly subscriptions and (3) free.
Some charge station network providers offer both a combination of the two, resulting in a lot of variations for electric vehicle drivers. However, the most common pricing method and the most favored by drivers is pay as you go. Still, some networks want to incentivize you with a lower rate if you are a frequent member, so the subscription method could be right for you if there is a convenient public charger that you rely on weekly.
Membership fees
Most EV drivers do not want a monthly subscription or membership, but becoming a free member of a charging network is easy if you need to use a public station to authenticate the charge. You can download the app, signup and pay with the app by placing a credit card on file. While only some charging networks will require an initial deposit of $25, the trend is to offer guest charging so anyone can pull up and pay with a credit card without the hassle of signing up as a member.
For the networks that offer subscription memberships, the monthly rates range from $4 to $7.99.
Pay-as-you-go public charging prices
Generally public charging station rates are based on a number of dimensions: location, time of use, length of use, and power level, which factor in the price of the commercial electricity usage. For example, California has the highest electricity rates in the country and time-of use pricing, which varies by time, weekday and season. In Pacific Gas and Electric (PG&E) territory weekday peak pricing is between 3 - 8 p.m. Furthermore, charging networks price Level 2 AC charging differently than DC charging, which also have a range of power levels from 50kW - 350 kW.
Public charging rates
Pricing rates can be established by the site-host owner or the EV charging network, which impacts the pricing as there are different motivations for each. For example, a site-host may want to offer free public charging to bring more customers to its retail stores or offer it as a perk to increase "dwell time."
That said, charging "by the minute," or per-minute costs are most commonly used, but you can also see pricing per charging session and per kWh.
When charging by the minute, charging systems will have a standardized amount of electricity flowing into the car. There is no guarantee about how much electrical current is flowing into your vehicle, though most stations will offer a reassurance like a "20 minute supercharge" to attract EV drivers.
Public charging idle fees
Different charging networks will incentivize proper utilization by charging electric vehicle drivers for idling. These fees also vary by network and location. For example, an idle fee can range from $0.40 per-minute to $1.30 per minute.
Most networks no longer have set up fees or termination fees for members, but credit card fees vary across locations if you pay as you go.
What Is the most convenient and affordable place to charge?
Charging your car at home, and paying your electric utility company for the energy you consume. The difference comes at the price of the energy itself. Kilowatts per hour refers to how many kilowatts are being pumped into the battery of the car per hour. On a home system utilizing a level 2 EV charger, a typical rate at which a vehicle consumes energy is 7.2kWh. Most plug-in electric vehicles have a capacity of 50kW, meaning a full charge on a V2 charging unit can take about 7 hours.
For example, with a monthly membership fee, one charging station network still charges $1.50/hour for level 2 charging. The average time of the charge for an electric vehicle on a level 2 system is about seven hours for a full charge. This means that a full charge with this charging network would cost you $11. When you compare this to the average cost of an EV at-home charging unit, you realize that charging at home saves you about 50% when you also look at membership fees!
Growing federal support for vehicles and charging stations
There's good news for prospective EV owners in the Inflation Reduction Act (IRA), signed in August 2022. The IRA continues the $7,500 federal tax credits for EVs, without the 200,000-unit cap that eliminated tax credits on Tesla, GM, and Toyota EVs. Your taxable income can't exceed $150,000 for individual filers (or $300,000 for joint filers). The EV price must be no more than $55,000 for sedans, hatchbacks, and wagons and $80,000 for trucks, SUVs, and vans. The EV doesn't even need to be new; buyers can also get tax breaks for purchasing used and commercial EVs.
The IRA also includes tax credits for EV charging equipment, especially in rural and lower-income areas. That's a welcome addition to the U.S. EV charging networks included in the National Electric Vehicle Infrastructure (NEVI) Formula Program. Under the plan passed in November 2021, the U.S. Departments of Energy and Transportation is authorized to invest $5 billion over five years to launch public networks along designated "alternative fuels corridors" on the national highway system. States submitted plans to the Federal Highway Administration on August 1, 2022, for approval by September 30. Buildout is slated to begin in spring 2023. This means that you'll start to see more public chargers at gas stations, convenience stores, and fast-food chains along highways across the country.
Explore residential and commercial charging options
Enel X Way is a global leader in public charging infrastructure, with a network of more than 380,000 charging stations across more than 31 countries. Our experience and capabilities will help achieve the goal of providing smart charging infrastructure and services throughout the United States.

If you drive a Tesla and want to learn more about the costs between a public charging station and a home charging station, you can read our breakdown of Tesla charging station costs.
To find out everything you need to know about at-home EV charging, check out our blog or read about our JuiceBox rapid charging stations here.