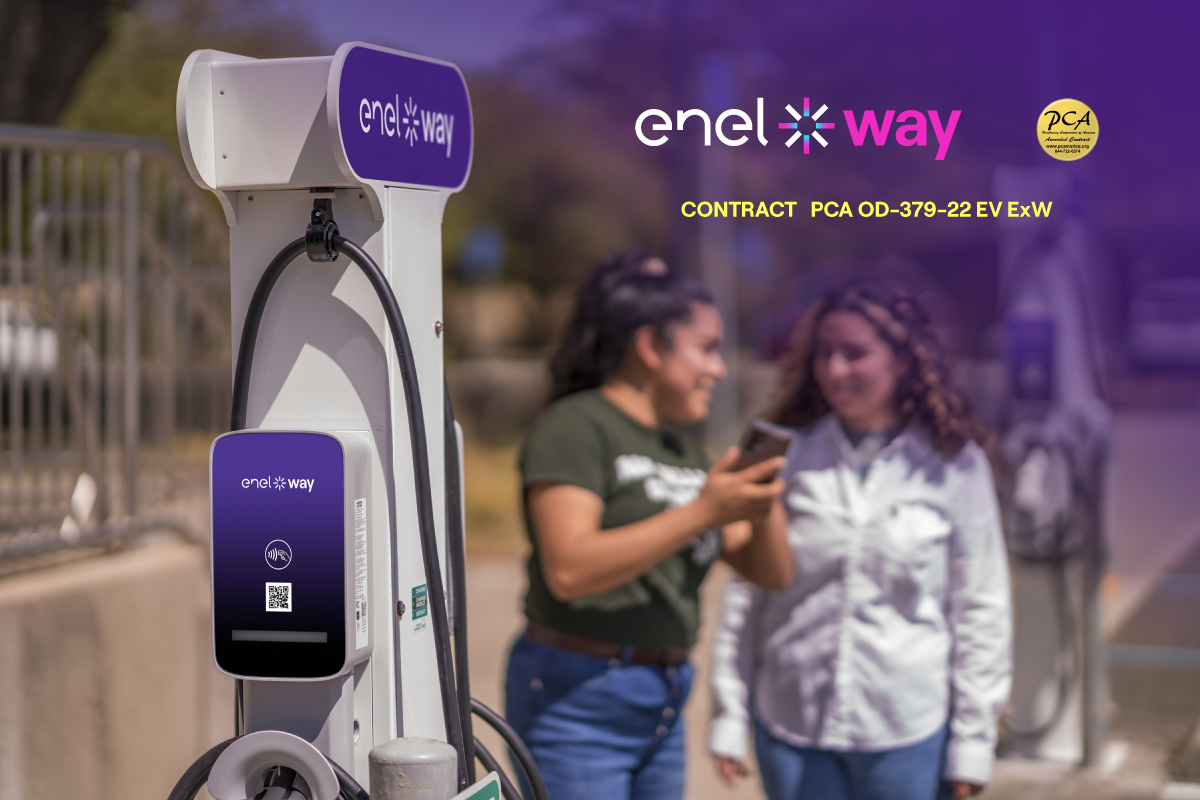 PCA contract allows public entities to purchase commercial EV charging stations and services directly from Enel X Way utilizing their competitively bid contract awarded by a public agency
San Carlos, CA – April 5, 2023 – Enel X Way, the Enel Group's global e-mobility business, has been awarded a cooperative contract with the Purchasing Cooperative of America (PCA) to streamline and accelerate the procurement and deployment of electric vehicle (EV) charging infrastructure across the North America. This new agreement enables public entities, such as regional, state, federal, and Tribal governments, to purchase commercial Level 2 and 3 EV charging stations, software, and services from Enel X Way without going through the traditional - and often lengthy – process of requesting bids on their own.
PCA is a national purchasing cooperative available for use in all 50 states, U.S. Territories, Canada and Mexico that provides best value contracts, adheres to the highest ethical standards in public procurement, and provides real-time cost savings for its members and contractors.
"Connecting with customers through PCA streamlines the purchasing process for all things EV," says Chris Baker, Head of Enel X Way North America. "Now it will be easier than ever for public entities like cities, schools and hospitals to take advantage of the cost savings and clean energy benefits smart charging infrastructure provides."
Enel X Way supports the US' goal to develop a national network of 500,000 DC fast chargers and community charging programs as part of the Inflation Reduction Act (IRA). Enel X Way commercial chargers qualify for the federal tax credit. Under the Alternative Fuel Vehicle Refueling Property Credit, commercial projects now qualify for a maximum incentive of 30% or $100,000 per charger (up from $30,000 per property), whichever is of lesser value.
Enel X Way offers a turnkey fleet management solution, including smart commercial charging stations and cloud-based software that helps optimize charging times, provides remote access control for station monitoring, and offers real-time monitoring and reporting. This type of EV management solution not only provides the cleanest charging option and reduces fleet operating costs over the lifetime of the EVs, it also helps balance the electric grid by utilizing off-peak charging, which generates bill savings for the entity and reduces strain on the grid during peak periods.
"One of PCA's main priorities is providing time and cost savings for our members, so they can spend more time on what really matters," says Elaine Nichols, Director, Purchasing Cooperative of America. "This new contract with Enel X Way makes it easier for our members to create positive change and reap the many economic and environmental benefits of electrification."
Transportation is the largest contributor of GHG emissions. To decarbonize, governments and municipalities are electrifying fleets and deploying public, grid-connected charging infrastructure.
City of Chico Traffic Engineer, Watt West, mentioned, "JuiceBox Pro smart charging stations provided all the features we were looking for at an unbeatable value. We were able to install both fleet and driver-friendly EV charging stations in Chico."
Napa Valley College, Director of Public Affairs and Communications, Holly Dawson, "Napa Valley College is excited to significantly increase the number of charging stations available to our faculty and students. Enel X Way has been an excellent partner throughout this process, making it easy and affordable for us to better serve our community."
There is no cost to join PCA or use PCA contracts. Public entities – including cities and municipalities; counties; states; federal and other agencies, Indian Tribal Governments; public, private and charter schools; state colleges and universities; hospitals; law enforcement; non-profit, non-taxed organizations – can register to become a member at: https://www.pcamerica.org/members/registration.
ABOUT ENEL X WAY
Enel X Way is a subsidiary company of Fortune 200 renewable energy leader, the Enel Group, and is dedicated to electric mobility. Enel X Way operates in 16 countries and manages over 500,000 public and private charging ports worldwide and over 170,000 in North America, both directly and through roaming agreements and joint ventures. As a global platform for e-Mobility, the company is focused on developing flexible charging technologies and solutions to improve the customer experience and enable the electrification of transport for consumers, businesses, cities and public administrations. Enel X Way's flagship home charging station, the JuiceBox, has been named the "best EV charger overall" by CNET, Car and Driver, Popular Mechanics, and Road & Track. For more information, visit our website and follow us on Instagram, Facebook and YouTube.
MEDIA CONTACT
Enel X Way North America
Jessica Loizeaux